This week is your last chance to take part in our social media promotion Truth or Bluff. It starts with a video but it could end with you winning a Platinum Pass and a trip of a lifetime to the PokerStars Players Championship in the Bahamas next January.
We won't go over all the details again. If you need them, you can find details of the competition so far by clicking here.
But a short reminder would go something like this:
Each Tuesday we're posting a video on the @PokerStars Twitter stream. All you have to do, when the video pauses, is guess whether the Pro involved if telling the truth, or bluffing. You can do that by tweeting your guess, along with your Stars ID and the hashtag #PlatinumPass.
Each guess permits you entry into an exclusive Freeroll on PokerStars, the winner of which will receive a Platinum Pass. Correct answers over the four weeks of videos will add vital chips to your starting stack in that freeroll.
It's as simple as that.
This week's video features Andre Akkari vs Daniel Negreanu on Twitter, while Daniel takes on Jeff Gross on Facebook, where you can win one of ten goody bags, and a cap signed by Negreanu himself.
After three weeks, there is a short list of players with a 100 per cent record. They are:
1AJA
actyper
baidarko
bellsbanger
Bernabe_SPS
ClubChamp05
Come on K#48
cthiry
dgorgiik
Dimon130188
galrok
Har-Sopdu
Jekkepatser
juli131310
kisavikki
kisbrame
lucavalen
McJoggers
MeegaSkilled
Mishanya457
Moergis
MpG420
Mrs.Vein
neiraman
NewPurus
ognjen1989do
OlegPatron92
Poolsierend
reyeM6077
Schmitzer1
size-O
sjacko8
SleazyP84
SuperZaychik
UntruetoU
VisoDan
wesleyw
Whisky6396
yanochka1709
yo_nutz33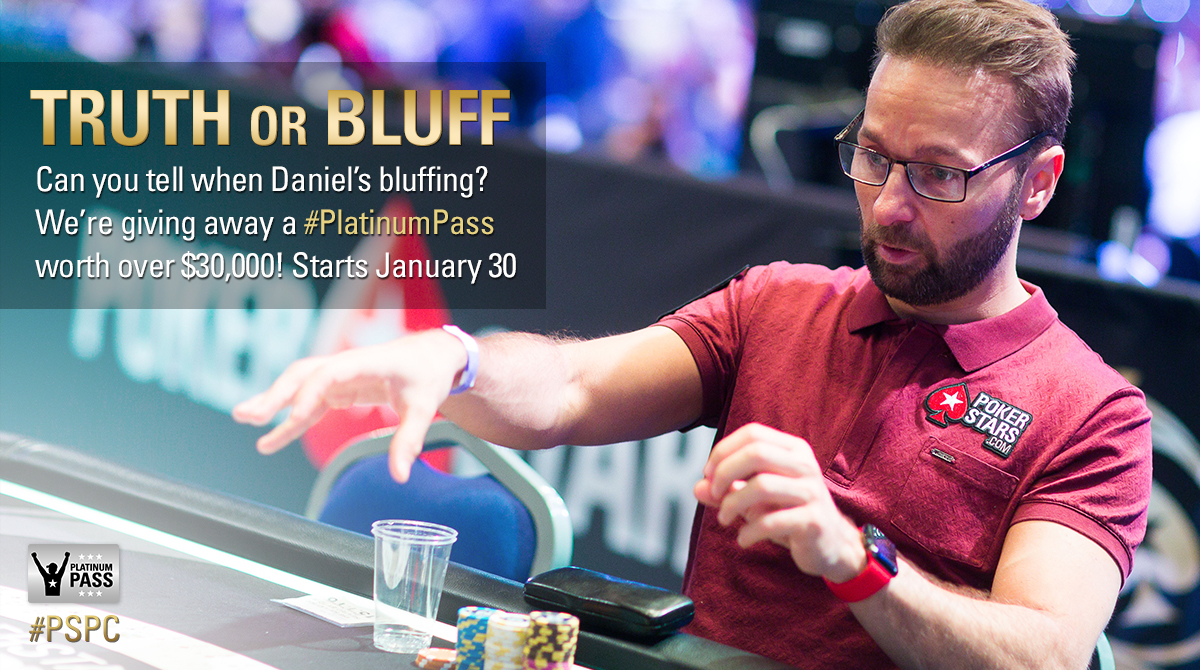 This week it's your last chance to add some value to your starting stack. Check out this week's video on the @PokerStars Twitter account. Meanwhile check out all the details of the Truth or Bluff promotion here.