By now, and with last weekend's timely reminder, you'll know that you can win your way to the PokerStars Players Championship by winning big in PokerStars events. Kalidou Sow is just the latest example.
That's certainly one way to win a Platinum Pass, but what if your bankroll is, let's say, a little smaller than the typical high stakes player. And while you study the game, you still have work to do before testing yourself against the game's best.
Well, among the Platinum Passes to be awarded this year, we plan on making sure low stakes players get their shot too. We've asked players how they thought we could best award a Platinum Pass...
Want a shot at a $30K #PlatinumPass?💰 The #WinterSeries is awarding FIVE, and we're giving away $2.20 tickets to anyone submitting an idea on how to give away others, with $22-215 tickets for the best suggestions. Tweet it with #PSPC & [Stars ID] 👍 T&Cs: https://t.co/lO20xEUxtn pic.twitter.com/bX02vvEE3F

— PokerStars (@PokerStars) December 21, 2017

Many players suggested a freeroll, along with a social media promotion. Which funnily enough brings us to two brand new social media promotions starting today on Facebook and Twitter.
It's called Truth or Bluff.
By taking part into the Twitter contest you'll have the chance to win a Platinum Pass. Meanwhile take part in the Facebook version and you'll get the chance to win a #PSPC hat signed by Daniel Negreanu, along with other merchandise.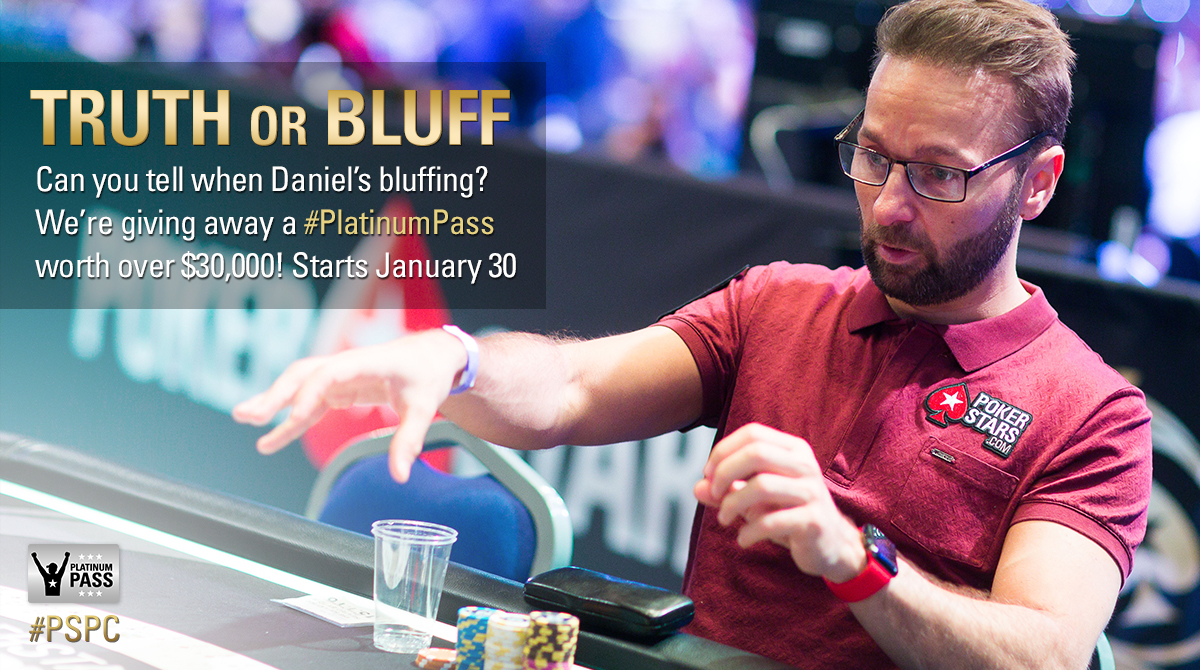 The format is easy. Each week we'll be posting a clip on each of the channels above. Part way through the video the action will pause. At that point you decide whether the Pro is bluffing or telling the truth.
Simple.
The first videos will be released today on the @PokerStars Twitter account, with the answer (concluding part of the video) revealed this coming Thursday. They'll be more videos, posted each Tuesday, over the next three weeks.
📡📢🎉 We're hosting a #PSPC Freeroll on Mar 4 for a $31K #PlatinumPass! Watch the video, enter your guess before 23:59 ET Thu, and you'll earn your seat! Easy. Plus 20 correct entries win a #SundayStorm ticket. Info: https://t.co/Y113XTucsA T&Cs: https://t.co/cAFvjzzqPT 🇧🇸💰 pic.twitter.com/k9JSLdcVJs

— PokerStars (@PokerStars) January 30, 2018

On Twitter, you can enter this contest by replying to each tweet with the hashtags #PlatinumPass and with your [Stars ID].
Then comes the fun part, with a potential life changing prize.
For taking part we'll invite you to enter a special freeroll on Sunday, March 4.
But there's an advantage to those players who got the correct answer to each video. If you get more than two correct answer you'll get extra chips added to your freeroll stack, and also get the chance to win one of the 20 tickets for the Sunday Storm ($11) each week.
The winner of the freeroll is then awarded a Platinum Pass worth $30,000 to the PokerStars Players Championship in the Bahamas in January 2019. They'll also be other prizes available of Sunday tournament tickets worth around $5,000.
On Facebook, you can enter this contest by commenting with your answer, and should you be one of the winners we'll contact you via direct message.
So for now, log into Twitter, check out the videos and make your choice. You could find yourself on the way to the Bahamas, armed with a Platinum Pass, a bag of PokerStars merch, and a dream of winning big.
On that point, we're most certainly not bluffing.